Thanks to its incredible flexibility and versatility, cork has become a favorite choice for designers looking for more simple, environmentally-friendly materials.
Cork is often described as a chameleon-like material and it's surprisingly versatile in furniture design.
Whether you wish for it to take center stage or prefer for it to blend in with the surroundings, cork can do both.
Recyclable, renewable, inexpensive, and lightweight – the natural material really does tick all the boxes.
When discussing cork furniture, you'll most likely hear the names of Edward Wormley and Frank Lloyd Wright, who used it for many of their works.
However, as modern designers switch to more eco-friendly options, cork has become a popular choice in today's product design too.
Burnt Cork by Noé Duchaufour-Lawrance
When French designer Noé Duchaufour-Lawrance opened a design studio in Lisbon, he had a mission in mind – to rethink traditional crafts and techniques.
As the designer explored local workshops, he got to know the owners of NF Cork, a small, family-run factory specializing in cork production.
This is where the story of his beautiful minimal cork furniture collection began.
During a factory tour, Noé noticed a pile of burnt cork – no longer usable.
Thinking about how to give new life to the material, Duchaufour-Lawrance developed the Burnt Cork furniture collection, made of composite cork blocks.
The designer mixed burnt, and regular pellets and so achieved a gradient color transition from smoky grey to beige.
The bases of the pieces are monolithic – this was done to accentuate the gradient effect.
Duchaufour-Lawrance has topped the massive legs of the tables and chairs with light, streamlined seats, backs, and table tops.
Coffee table by Creative Cork
The gradient of textures is perhaps what makes cork furniture so special.
Fusing cork with wood, the coffee table by Portuguese company Creative Cork will fit in beautifully in any minimalistic interior.
Plus – you are guaranteed to live with it for a long time, as the durability of the cork is truly remarkable.
OAK OAK by Morten Husum Nielsen
One of the best examples of minimal cork furniture is OAK OAK by Morten Husum Nielsen.
Not only does it function as a kids' high chair – once you remove the seat cover, it also has extra space for your little one's books and toys.
Made of an oak frame and a cork seat, it will look great either in the nursery or your dining room.
What makes the product from the Denmark-based designer so unique is the fact it is made of small parts that fit together like a puzzle.
As people increasingly strive for minimalism in interiors, the need for storage solutions that efficiently free up space is growing.
This, indeed, is a great option that won't disappoint.
Tumble by José Manuel Carvalho Araújo
Nowadays, multi-functionality is everything.
More and more designers are looking for ways to create furniture that could adapt to the needs of the area at any given moment.
This is what José Manuel Carvalho Araújo has managed to do perfectly with this piece of cork furniture.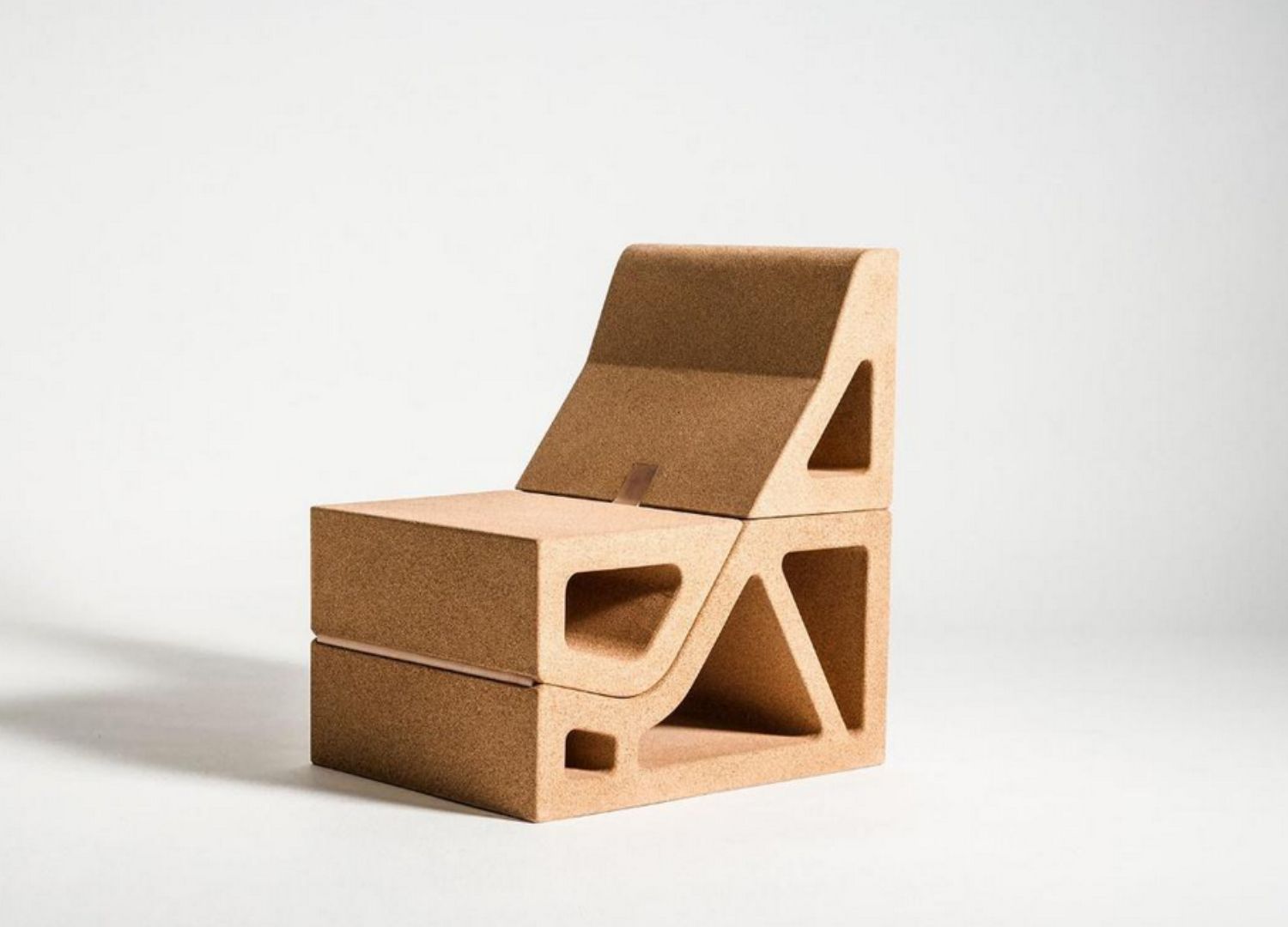 As you add or connect additional parts of Tumble, it serves different functions.
Whether you use it as an organizational element or a bench seating, it will serve its purpose well.
End notes
While cork has a long history in the wine industry, it can also be an excellent material in product design.
By taking full advantage of the cork's versatile nature, designers create minimalistic yet playful furniture pieces and accessories in various textures and colors.
The fact that cork is not just pleasing for the eyes but also an environmentally friendly material makes it even more attractive.
Source: DesignWanted
---
For enquiries, product placements, sponsorships, and collaborations, connect with us at hello@takumaku.com. We'd love to hear from you!
---
Our humans need coffee too! Your support is highly appreciated, thank you!