Newly accessible knowledge from Indigenous peoples, scientists, foresters, tree surgeons and writers can better inform architecture's relationship with trees
Not far from where I grew up is an old linden tree next to a church. Historians date the tree back to the 1380s, when a pair of lindens were planted, probably at the same time as the church was built. For several hundred years, the trio stood together as the tallest markers of architecture in their landscape. At some point, the village, called Marchissy, in Switzerland, added the linden seed to its coat of arms and the trees became its expression of place. In 1903, one of the two lindens was lost to a bolt of lightning.
Next to Marchissy's church stands the second oldest, and biggest, linden of Switzerland
Credit:The Architectural Review / F1 Colour
The remaining tree, affectionately going by 'le gros vieillard' (the big old man) or 'le vénérable vieillard' (the venerable old man) grew another hundred years older – tree time is different – until parts of its trunk started caving in. In a panicked effort to prevent it from collapsing, concrete was poured into the open cavity and a metal truss affixed to one of the branches as a load‑bearing column, or a stationary walking stick, depending on how you look at it. In 2019, when the big old man was over 600 years old, Baumdoktor Martin Erb (a tree doctor from German‑speaking Switzerland) came to assess the patient.
Best described as 'forest engineers', tree doctors operate across botany and engineering. Erb's treatment was a mixture of science and construction: a regular compost of mycelium to counter the fungi responsible for disease; pulling away the ivy and mistletoe that were growing over the concrete and competing for nutrients; removing the concrete itself, which was conducting heat away from the tree, and replacing it with a metal grill; and changing the truss and guy‑wires to hold up the weight of the crown. With this treatment, the linden could live up to the age of 1,000. 'He is an old man who is doing well and who deserves someone to take care of him,' said the village mayor.
When the trunk of Switzerland's largest Linden, 10.95m in circumference, started caving in, emergency solutions were deployed, involving steel and concrete. The tree is now being looked after, and is slowly recovering
Credit:Olivier Vogelsang
Between the linden losing its twin and its health check‑up, in October 1950 a study of the uses and possibilities of trees in modern architecture, titled 'Trees Incorporated', was published in The Architectural Review. Herbert Francis Clark, who earned a reputation as a landscape modernist in Britain and authored several books on the subject, penned the introduction alongside the illustrations of the AR's then art editor Gordon Cullen, who went on to become an international propagator of the 'townscape' movement. Acknowledging their reputation goes some way to understanding the authoritative tone that permeates the piece: written by men, for men, on how architects – mainly white men at the time – could better work with trees.
Accusing modernist projects of being alienating, and aiming to fix architecture's 'calamitous' relationship to its surroundings, the authors' didactic essay suggests trees and planting as a solution to redevelop 'sympathetic human qualities' and add 'richness and variety'. Steadfast in topics of form, colour and texture, they explore an array of tree species, always through the unflinching lens of aesthetics: their 'diagonal accents', their 'calligraphic subtleties', their 'textural qualities'. They write about trees as they would about wallpapers and do not shy away from it; 'this article has concentrated on the role of trees as embellishers', they state in the postscript.
Recent projects that look to preserve existing trees include Lacaton & Vassal's house in Cap Ferret
Credit:Phillipe Ruault
Reading the piece today, we can criticise its mansplaining and superficiality, treating trees as objects that can be added, deleted or transplanted to garnish the building at hand. Yet in the '50s, trees were understood very differently from today. The idea of networks – a key aspect to understanding trees and their ecological impact – enters mainstream public consciousness in the '90s with Tim Berners‑Lee's creation of the World Wide Web. Forestry scientist Suzanne Simard first introduces the 'wood wide web' in her 1997 paper on mycorrhizal networks in Douglas firs, triggering decades of research on how trees communicate through underground networks; connections made from fungi between tree roots stretch across hundreds of kilometres, collaboratively feeding nutrients and information between trees, such as predatory threats or trauma. The networks of tree roots act like a giant cerebrum.
While Clark and Cullen deemed conifers unsatisfactory for buildings 'unless their horizontal lines are too dominant or a repetition of the ascending lines for a tower is needed', it is a species of conifer that was used to prove the complexity and intelligence of trees. Older trees, which Simard calls 'mother trees', operate at an even deeper level, nurturing their younger offspring and acting as 'hubs' in the larger network. Simard's student, scientist Kevin Beiler, took the research a step further by translating the data into maps of networks between trees in a plot as small as 30 by 30m. While this layer of information currently lives in scientific journals, it could inform the work of architects.
'It takes an authority beyond money to transcend and steward what remains of Ethiopia's old growth forests'
Some contemporary architects aim to preserve or 'exploit existing planting' explicitly early on in their design process – a still‑valid instruction from Clark and Cullen's guide. To avoid felling existing pine trees on a plot of land and destabilising the sandy, dune‑like soil with heavy foundations, Anne Lacaton and Jean‑Philippe Vassal's house in Cap Ferret uses micro‑piles to build a private home suspended above ground, its floor slab perforated to give space to tree trunks. A more public project that also preserves older trees by design is Tezuka Architects' Fuji Kindergarten in Tokyo (AR August 2007), which carefully incorporates three semi‑mature trees, with small courtyards designed around the trunks on the ground floor and a roof deck under the canopies.
On any site, there is a pre‑existing ecological fabric, meaning trees cannot be considered as temporary or isolated objects next to buildings. Thousands of kilometres away from Marchissy and its linden, Ethiopia's orthodox Tewahedo churches are small patches of forest surrounding a building. The church is both the building and the forest, and its entrance lies at the threshold of trees. These sites are also lighthouses of Ethiopia's biodiversity: there are 35,000 such constellations in the country and 'it is only because of the patronage and the blessing of the church that these forests have survived', confessed forest ecologist Alemayehu Wassie. It takes an authority beyond money – in this case religion – to transcend and steward what remains of the nation's old growth forests. The rest was lost to agriculture and relentless deforestation.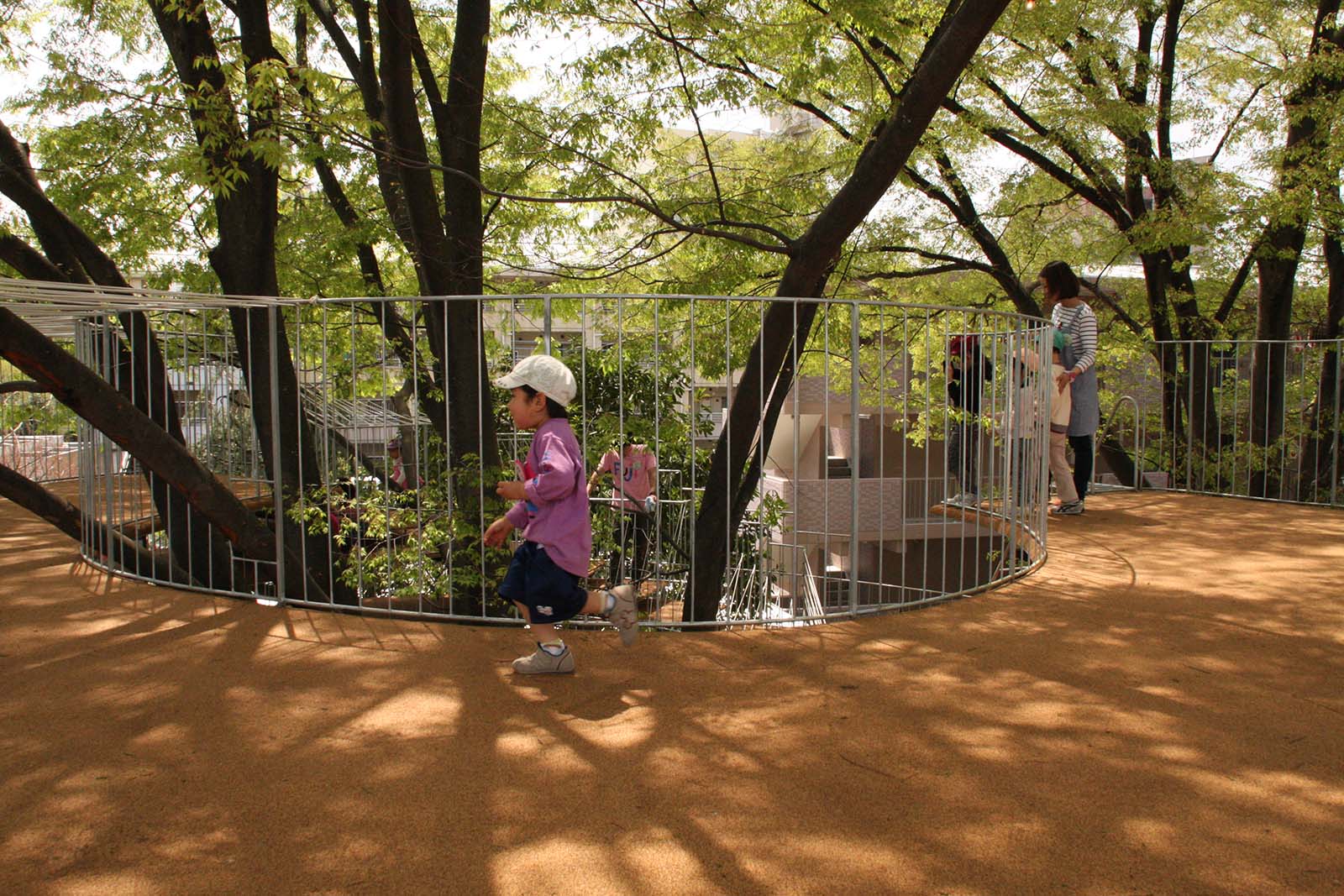 Fuji Kindergarten by Tezuka Architects is another project that looks to preserve existing trees
Credit:Tezuka Architects
Many Indigenous peoples have long understood trees as elements that are as much structure and architecture as human‑made monuments. Clark and Cullen's take that 'trees take on the spatial quality of columns' is a passive view that does not account for the structural potential of trees. Living trees could be used, as they are by the Khasi tribe in India, to create infrastructure: carefully coaxing roots and branches into lattices, they form suspension bridges that cross rivers and connect villages in the Meghalaya forests, fostering non‑human networks alongside human networks. Just as the monumentality of old growth forests far predates any architectural monument, an ecological approach should blur the distinction between the grown and the built, and consider both trees and buildings as equals on the site they occupy.
In the past decade, tree knowledge has soared in popularity through literature. Peter Wohlleben's The Hidden Life of Trees and Suzanne Simard's Finding the Mother Tree share forestry science through personal storytelling. Indigenous knowledge on plants has reached the mainstream, with botanist Robin Wall Kimmerer publishing Braiding Sweetgrass: Indigenous Wisdom, Scientific Knowledge and the Teachings of Plants to widespread consumption in 2013. Trees have appeared in fiction for as long as fiction has existed, but have seen a surge in fame with Richard Powers' The Overstory taking the Pulitzer Prize in 2019 – where trees intermingle across short stories.
Today, with this access to knowledge, architects' opinions of trees can no longer be divorced from their role as carbon sinks in the climate crisis. The plethora of leafy renders, floating gardens and new levels of corporate greenwashing in the fields of art and architecture convey virtue in client meetings, but they have little to do with ecological thinking. Such projects abide by Clark and Cullen's view that 'the tree should also be compact in its growth, it should be tolerant of smoke and dust, unmindful to service cables, subways and constant shocks to equilibrium of its root system, tidy in its habits and be able to exist with the minimum of moisture'.
The Khasi tribe converts trees into living infrastructure in the Meghalaya forests
Credit:Volkerpreusser / Alamy
A fig tree that was originally smuggled from Cyprus in a suitcase and transplanted to the UK by a botanist, is one of the central narrators in Elif Shafak's The Island of Missing Trees. 'Humans!' the tree laments, 'find it easier to assume that trees having no brain in the conventional sense, can only experience the most rudimentary existence.' While this rudimentary existence lives strong in 'Trees Incorporated', newly accessible knowledge from Indigenous peoples, scientists, foresters, tree surgeons, artists and writers can better inform architects' relationships with trees. Clark and Gordon's essay rightfully states that 'landscape has become part of architecture'. And landscapes involve other scales, other species and other ecosystems. Trees are ecological. Trees offset carbon. Trees are networks. Trees are architecture. Much work remains to be done to translate and apply this knowledge to architectural projects, to design spaces for both humans and non‑humans, with equal rigour and, perhaps more radically, with equal care. 
Source: Architectural Review
---
For enquiries, product placements, sponsorships, and collaborations, connect with us at hello@takumaku.com. We'd love to hear from you!
---
Our humans need coffee too! Your support is highly appreciated, thank you!