These furniture and lighting breakthroughs from Salone del Mobile and other design fairs in Milan this year prepare us for the circular economy.
Last year, Milan's Salone del Mobile—the annual bellwether of what's au courant in the world of furniture, lighting, and other products for interior design—declared a spotlight on sustainability. This year, the word went from centerstage to being an "of course," as in: "Of course we are investing in sustainability." Every major brand at the fair had some small improvement to show in their use of recycled content in their products, in switching to renewable energy at their facilities, and in commitments to carbon neutrality. 
Amidst these incremental measures, some products stood out for bringing circular principles to product categories and manufacturing processes that have so far resisted disruption. Here are a few of the quiet revolutions from Milan Design Week 2023:
Bioplastics are slowly making their way into the furniture industry, it's true, but these eco-friendly alternatives generally have to be reinforced with more rigid, less sustainable materials. But a chair mass-produced entirely out of bioplastics; structure, seat, upholstery, and all? That holy grail is now within reach, according to the designers of the prototype Peel chair, displayed as part of the annual Alcova exhibition. Oakland, California–based design studio PROWL claims this is the "first injection molded chair that can be composted." The frame is made of corn-derived PLA mixed with hemp fibers that lend it structural strength, while the cushions are made of hemp-based foam. Given the right conditions, the entire chair can be composted within six months. 
While this modular collection is certainly eye-catching and chock-full of smart features (like a recycled polypropylene base that allows the modules to be linked together), its most important sustainability attribute is that it can be fully disassembled at the end of its life, so that all the individual components can be reused or recycled. Ralik was designed by Ichiro Iwasaki, and comes with removable upholstery in fabric, leather, or coated fabric. This means it stands a greater chance of avoiding the landfill when tastes and preferences change, and can eventually be decommissioned responsibly—an important development in upholstered ancillary furniture systems.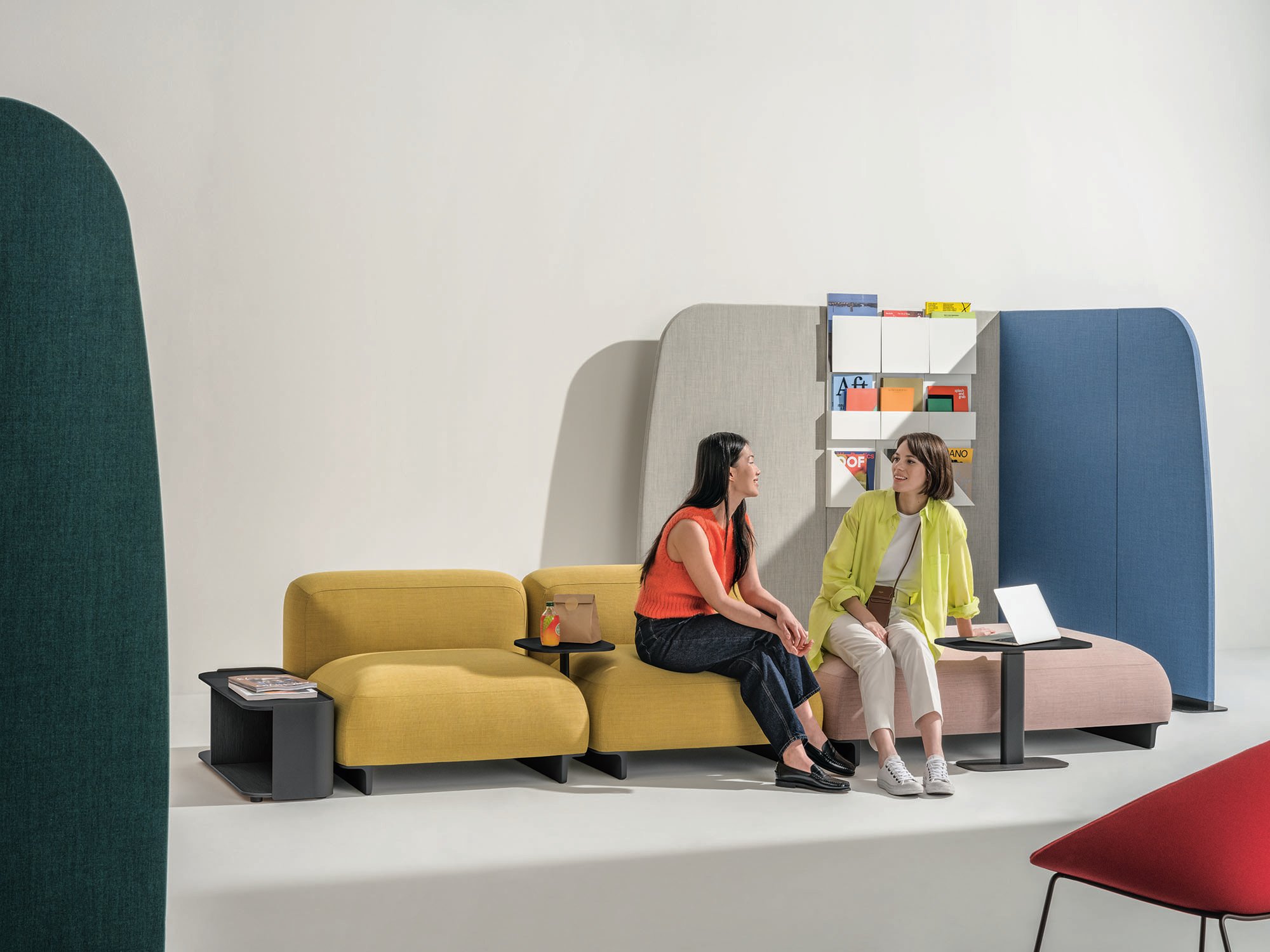 Named for a 16th century French toy that you might know better as Cup and Ball, this playful light designed by Philippe Malouin consists of two cylinders magnetically attached to a shiny metal sphere, allowing the upper arm to be directed as needed—or even detached. This fun interactivity belies the serious thought that went into the light's materiality. The cylinders, for example, which are available in the Gen Z–appropriate hues of Linen, Tomato, and Sage, are actually made of pigmented metal rather than being painted or coated. And all of Bilboquet's components, including the bulb, can be easily disassembled, repaired, replaced, or disposed of responsibly.
Now, just because something is recyclable or compostable doesn't mean that it will be—a 2022 Greenpeace report found that only 5 percent of all plastic in the United States is actually recycled, for example. Nonetheless, by incorporating renewable or recycled content and being designed with a second life in mind, these products both prepare us for a more hopeful future and send the right signals to an industry that remains criminally wasteful.
---
For enquiries, product placements, sponsorships, and collaborations, connect with us at hello@takumaku.com. We'd love to hear from you!
---
Our humans need coffee too! Your support is highly appreciated, thank you!