Anyone who's been house hunting knows that buying a home is all about compromise. Maybe you can find that cute bungalow in a great school district, but the kitchen is much smaller than you want. Or maybe the price is right on that ranch home, but the layout leaves something to be desired.
If you've hunted around and just aren't finding what you're looking for, new construction might be for you. But how long does it take to build a home from the ground up?
When you're building a house from scratch, you have to consider a lot of variables. Part of the fun of new construction is that you get to customize your space, right? But all of those customizations can take more time, especially if your contractor has to special-order materials.
That's no reason to cross things off your wish list. You just want to keep in mind that those things might make the job take a bit longer.
Some other biggest variables in home construction are the number of workers on the job each day, the condition of the lot, permits and inspections, and the weather [source: Pacific Crest Inspections]. If you have a big crew and clear skies, your job can go much faster. If you're demolishing an old house, or the ground where you want to build is in bad shape and needs to be graded first, that's going to prolong the construction timeline.
The U.S. Census Bureau's 2020 data from the Survey of Construction estimates it takes about 6.8 months — from start to finish — to build a new home. But that timeline increases to 12 months when owners act as their own contractors. And the length of time varies per region in the U.S.
When you're taking on a construction project, it's a good idea to know what to expect. That often means finding a contractor you trust and one who communicates with you every step of the way. Knowing the steps involved and how long they typically take can help you ask the right questions and determine if your contractor is being honest with you about time estimates.
What Is a Typical Construction Timeline?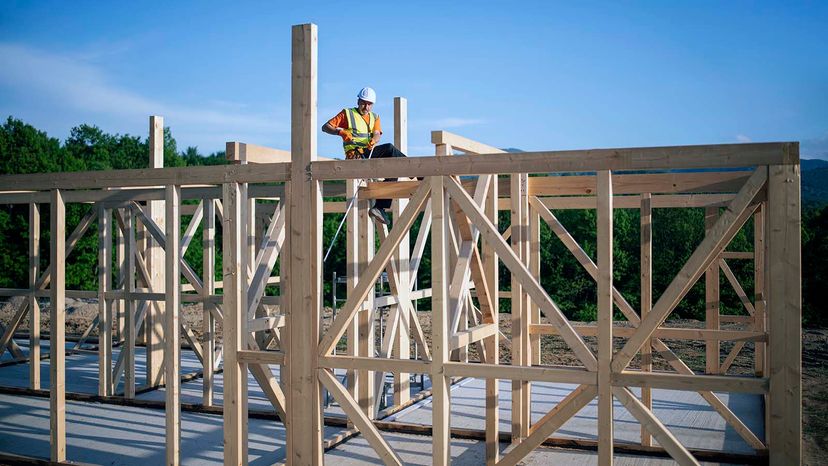 Every construction job is different, but some steps in the process are standard. Your contractor should give you a timeline that's tailored to the house you're building before they break ground. If they don't, ask for one.
Here's what a generic construction timeline might look like [source: Home Building Smart]:
Pre-construction period. Before you start, you (or your contractor) will likely have to pull permits, finalize architectural plans and get your financing sorted out. This can take one to two months — or longer.
Preparing the lot and laying the foundation. This includes clearing out debris and trees, leveling out the lot and pouring the foundation. A month is about average for this step.
Framing the house and building the roof. Framing usually takes about a month, but bad weather can delay things. Once the roof is up — usually a couple of weeks — weather is generally less of a concern [source: Bunzel].
Siding, wiring and plumbing. Workers will finish the outside of the house and get the plumbing, electrical, and HVAC started, which takes about one or two months.
Interior finishing. This is when the inside of your house starts to look like a house, with the drywall and most of the carpentry completed. Expect about two months.
Finish work. In the final two months, contractors install the floors, paint and finish the plumbing and electrical work.
Punch list. This is a critical step where you do a final walk through, and you and your contractor create what's essentially a to-do list of little things that still need finishing up. Think a paint touch-up here and a bit of caulking there. Make sure you go into this with a critical eye and question anything that seems wrong. This is your chance to get your contractor to fix mistakes before you move in.
Inspections. During many of these steps, and depending on your county's requirements, you may be required to have inspections by your county inspector. So before your drywall can be hung, for instance, your electrical and plumbing might be required to be inspected. You might also be required to have a final certificate of occupancy inspection to prove your home is built according to the law and codes, and that it is suitable to occupy.
Some of these steps can overlap, of course, and the almost inevitable delays can make the job take painfully longer than anticipated. The problem could be anything from late delivery of materials to the nearly inevitable red tape of inspections and permits. Even knowing that, it might still seem as if things are taking too long. So what can you do?
Prefab: New Construction Without the Wait
If you're looking to move in quickly and avoid some of the time lag and headaches of traditional construction, a prefab home may be for you. Prefabs take only weeks to assemble, rather than months, and they've come a long way in looks since the turn of the last century.
What's the Holdup?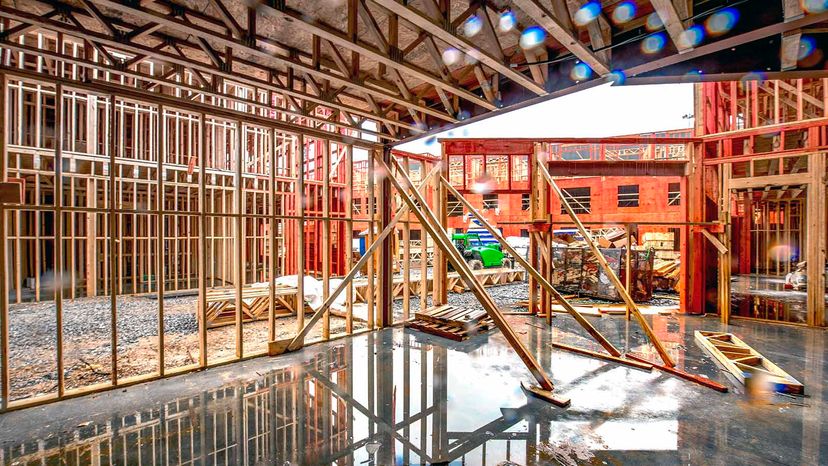 You'll inevitably run into issues while building a home. Nothing is perfect. So what are the most likely problems? Weather is probably the biggest factor that can delay construction, especially at the beginning of the job, before the roof is complete. For example, roof tiles need at least a few hours to dry, so you won't want them installed if there's a chance it will rain soon. Once you have the walls and roof finished, bad weather isn't as much of a concern.
The materials you choose and the number of workers on-site can also impact your construction timeline. A tile roof takes longer to install than an asphalt one, and if you have four workers, the job goes faster than if you have two.
You also need to consider the state of the lot. Demolishing an existing structure adds some time, but the condition of your lot is more important. If your contractor discovers bad soil when they break ground, they will need to dig and fill in the lot or use a special foundation to account for expansive soil [source: Pacific Crest Inspections].
One holdup that can be out of your contractor's hands is permitting. Sure, if your contractor makes a mistake and the city inspector catches it, that's on the contractor. But sometimes the city gets backed up, and your contractor has to wait for an inspection before work can continue.
How can you tell if your contractor is giving you a reasonable time estimate? We spoke to Rick Bunzel, principal inspector at Pacific Crest Inspections in Anacortes, Washington, in 2012. He told us the key is having a good relationship with your general contractor, because the boss knows what all the subcontractors are doing. Each task in home building is interrelated, and your general contractor has to organize that team and all of their time frames, since each step happens in a sequence. For example, a delay in roughing out the plumbing or electrical system can push back hanging the drywall.
Bunzel recommends using the "reasonable person approach." If something feels like it's taking too long, ask your contractor about it. There could be a good reason, but you won't know unless you ask. It's important to be involved, visit the job site, look and ask questions, and make sure that your contractor is on the job watching what the subs are doing.
Look at tour relationship with that general contractor like a marriage. You may not always agree. But you want to stick with it.
---
For enquiries, product placements, sponsorships, and collaborations, connect with us at hello@takumaku.com. We'd love to hear from you!
---
Our humans need coffee too! Your support is highly appreciated, thank you!