Outdoor griddles are now popular for their versatility and ability to cook various foods, but should you buy one in place of a grill or both? It depends on what you value.
In this article, we will look at both options and evaluate the new Traeger Flatrock to determine if it's worth buying.
Outdoor Grills vs. Griddles
Grills and griddles are popular outdoor cooking appliances that offer different experiences and results.
Understanding the pros and cons of each can help you determine which option is best for your needs.
Outdoor Grills
There are different types of outdoor grills, including regular gas grills, wood pellet grills, pro gas grills, and Kamado-style grills: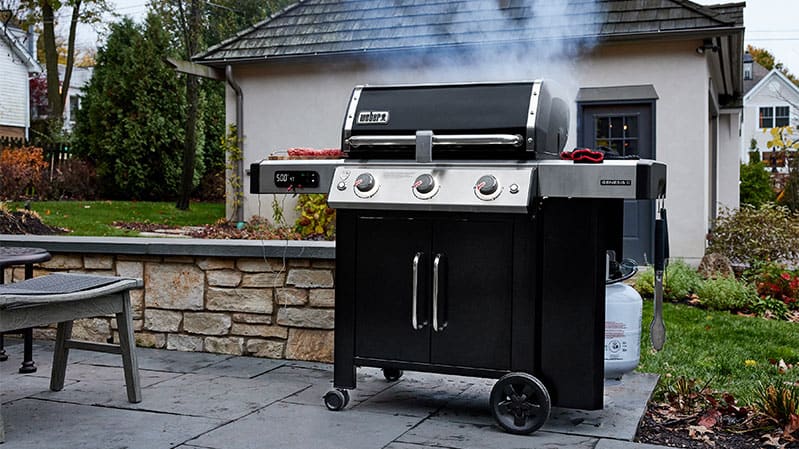 1. With a classic standalone BBQ grill, you'll have plenty of room to grill up your favorite meats, veggies, and more.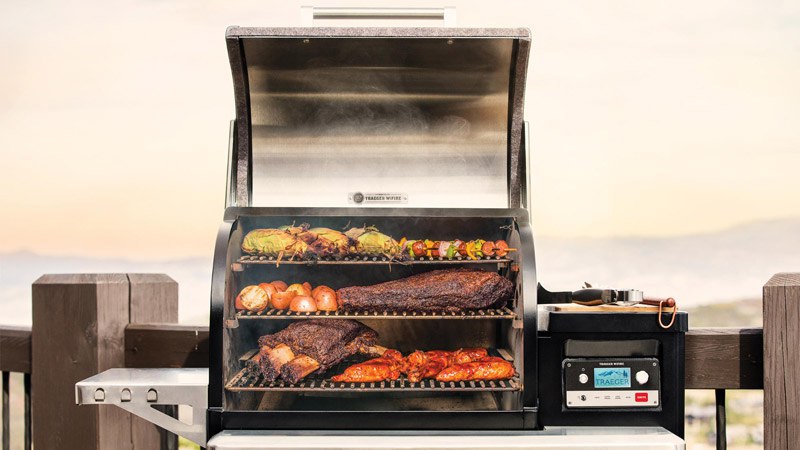 2. Wood-fired pellet grills blend of smoker and convection oven features, setting it apart from your average BBQ grill.
3. Professional BBQ grills are the perfect addition to an outdoor kitchen, providing superior output and performance.
4. Kamado-style BBQ smokers are made from high-quality ceramic materials. They are great for slow cooking meats, smoking fish, and even baking pizzas. 
Each has its benefits and drawbacks. Here are the pros and cons:
Pros:
Distinctive flavor: Charcoal grilling imparts a unique smoky flavor and texture to food that is difficult to replicate on a griddle. Pellet grills also offer a unique flavor and texture but are more suitable for slow cooking than grilling.
Defined grill marks: Grills create char marks on food, enhancing presentation and flavor.
Suitable for large cuts of meat: Grills are ideal for cooking large cuts of meat, such as whole chicken, ribs, or large steaks.
Better fat drainage: The grates on grills allow excess fat to drip away from the food, making them easier to clean. Kamados offer multiple cooking methods, including baking and broiling.
Speed: High-output grills, especially those with infrared, are the fastest for searing.
Griddle accessories: You can buy a griddle accessory for most grills. Weber has their OGS accessory designed to be used with their grill.
Cons:
Limited cooking surface: Grills are not suitable for making pancakes or cooking bacon. They also pose a challenge when cooking vegetables and smaller items.
Uneven heating: Grills can have hot and cold spots, especially charcoal grills, which require loading after each use.
Longer preheating time: Charcoal grills often require a longer preheating time compared to griddles.
More challenging cleanup: Grill grates must be brushed after each use, and charcoal grills produce ash that must be disposed of properly.
Here are some tips on how to enjoy having an outdoor grill:
Choose the right grill for your needs. There are many different types of outdoor grills available, so it is important to choose one that is right for your needs. If you have a small backyard, you may want to choose a small, portable grill. If you have a large backyard, you may want to choose a larger, permanent grill.
Prepare your grill properly. Before you start grilling, it is important to prepare your grill properly. This includes cleaning the grill, preheating the grill, and adding the correct amount of fuel.
Cook your food properly. When cooking food on an outdoor grill, it is important to cook it properly. This means cooking the food to the correct temperature and for the correct amount of time.
Clean your grill after use. After you are finished grilling, it is important to clean your grill properly. This will help to prevent the build-up of grease and food particles, which can make the grill unsafe to use.
Enjoy your grilled food! Once your food is cooked, it is time to enjoy it! Grilled food is delicious and can be enjoyed by people of all ages.
Here are some additional tips for enjoying your outdoor grill:
Plan your meals. Before you start grilling, it is a good idea to plan your meals. This will help you to make sure that you have all of the ingredients that you need.
Invite friends and family. Grilling is a great way to get together with friends and family. Invite them over for a barbecue and enjoy some delicious food together.
Make it a party. If you are having a large gathering, you can make it a party by setting up a buffet table with all of your grilled food.
Enjoy the outdoors. Grilling is a great way to enjoy the outdoors. Set up your grill in your backyard or patio and enjoy the fresh air and sunshine.
With a little planning and preparation, you can enjoy your outdoor grill all summer long!
Outdoor Griddles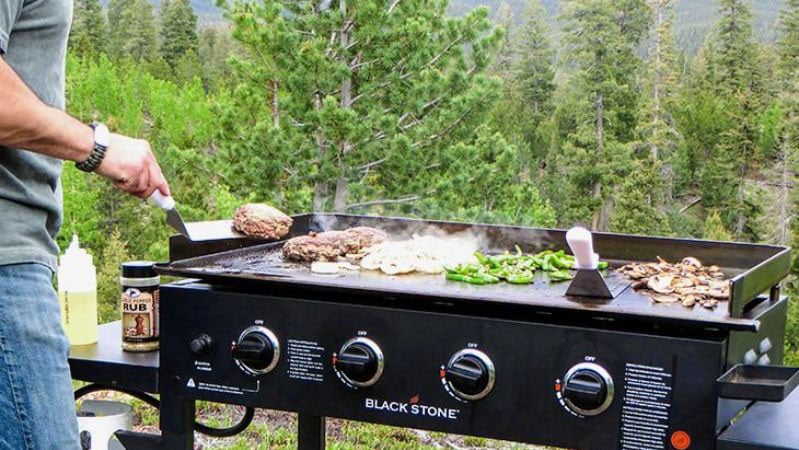 Pros:
Versatility: Griddles allow you to cook anything from pancakes to vegetables to shrimp.
Even heating: Griddles provide a more consistent and even heat distribution, making it easier to cook food uniformly.
Faster cooking: Griddles offer better heat control, allowing for faster cooking.
Easy cleanup: The flat surface of a griddle is generally easier to clean than a grill's grate, with no gaps for food to fall through or get stuck.
No flare-ups: Cooking on a griddle reduces the risk of flare-ups caused by dripping fat.
Cons:
No added flavor: Griddles do not produce the same smoky flavor as charcoal or pellet grills since they don't allow direct exposure to the heat source or open flames.
No grill marks: Griddles do not create the char marks associated with grilled food.
Less suitable for large cuts of meat: While griddles can cook most meats, they are not as well-suited for large cuts that may require longer cooking times or indirect heat.
No infrared: Griddles lack an effective sear like a pro gas grill.
Fewer options: Griddles cannot cook low and slow like a pellet grill, sear like a gas grill, or add texture like a charcoal grill.
Now that you understand the options, let's look at the best griddle on the market: the Traeger Flatrock Flat Top grill, priced at $899.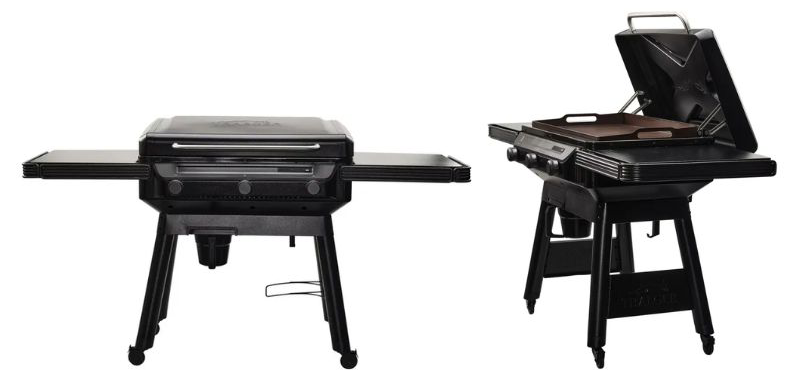 Features of Traeger Flatrock:
3 U-Shaped Burners
Recessed Carbon Steel Cooktop
P.A.L. Pop-and-Lock™ Accessory Rail
EZ-Clean™ Grease & Ash Keg
Flamelock™ Construction
Flame Sensor
Fuel Sensor
Two 17″ Folding Side Shelves
Premium Lid Enclosure
4 Casters
First, we will compare this griddle to the popular Blackstone griddle in a cooking comparison test.
Pros:
Three zones or three distinct burners
Traeger Flatrock Flat Top Grill
The three burners allow you to vary your cooking zones for different foods. You can cook veggies and water-soluble foods on the low setting, while meats can be cooked on the high setting.
Cleanability
The Flatrock excels in cleanability. It has a large, easily removable grease trap in the front, unlike other griddles with smaller grease traps on the back.
Accessory Rack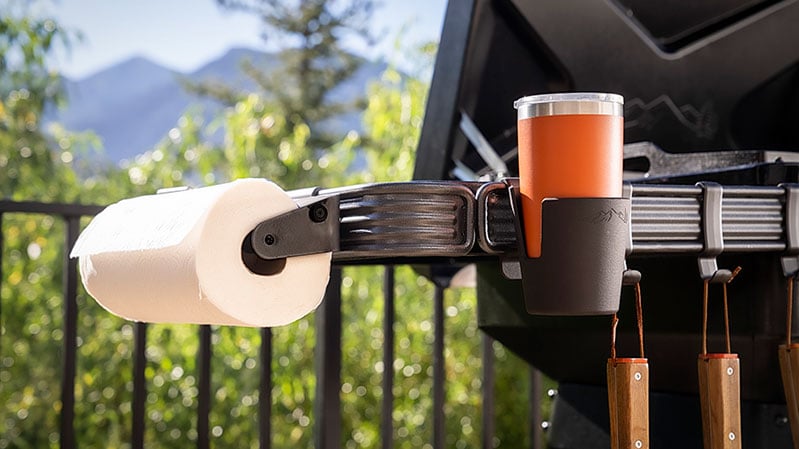 You will need storage bins, scrapers, and bottles for oils and water. The Flatrock comes with a built-in accessory rack and cup holder, making it convenient.
Fold-Out Side Shelves
When cooking large breakfasts or a big family dinner, you can place platters on the shelving.
Overall Design and Construction
Unlike other griddles, the Traeger unit is sealed from the griddle to the burners.
This prevents the burners from going out on windy days as the wind doesn't blow through.
Cons:
High Price Tag
The Traeger Flatrock is better designed than any other outdoor griddle.
However, it comes with a higher price tag of $899, which is much more expensive than other griddles on the market.
In subsequent articles, you will see how the Traeger Flatrock compares to a Blackstone griddle.
Should You Buy an Outdoor Griddle?
Whether you buy a griddle or grill is a matter of personal preference. Griddles allow you to cook more volume, but grills offer better searing, different flavors, and textures.
What do you think?
Outdoor grill. griddle. Traeger Flatrock. barbecue grills. BBQ grills. Griddles. Lifestyle. Home Appliances.
---
For enquiries, product placements, sponsorships, and collaborations, connect with us at hello@takumaku.com. We'd love to hear from you!
---
Our humans need coffee too! Your support is highly appreciated, thank you!