As the demand for access to healthy food intensifies and supply chains are stretched to their limits, innovation in agriculture is more than an interesting experiment—it's essential. Future100 students approached the issue in a multitude of ways, from urban farming and aquaponics to brownfield remediation.
Chenhao Luo's Tetravoltaics Reimagines the Industrial Landscape
Among the most unusual proposals was Syracuse University undergraduate Chenhao Luo's Tetravoltaics, which he completed in collaboration with fellow students Nicholas Chung and Angelina Zhang. Envisioned for the outskirts of the German industrial city of Mannheim, the project comprises a lattice of tetrahedral modules for the production of green energy, food, and recreational space. Consisting of an "Energy Park," a "Garden Park," and a "Community Park," the project aims to make the locus of production not only legible but fun.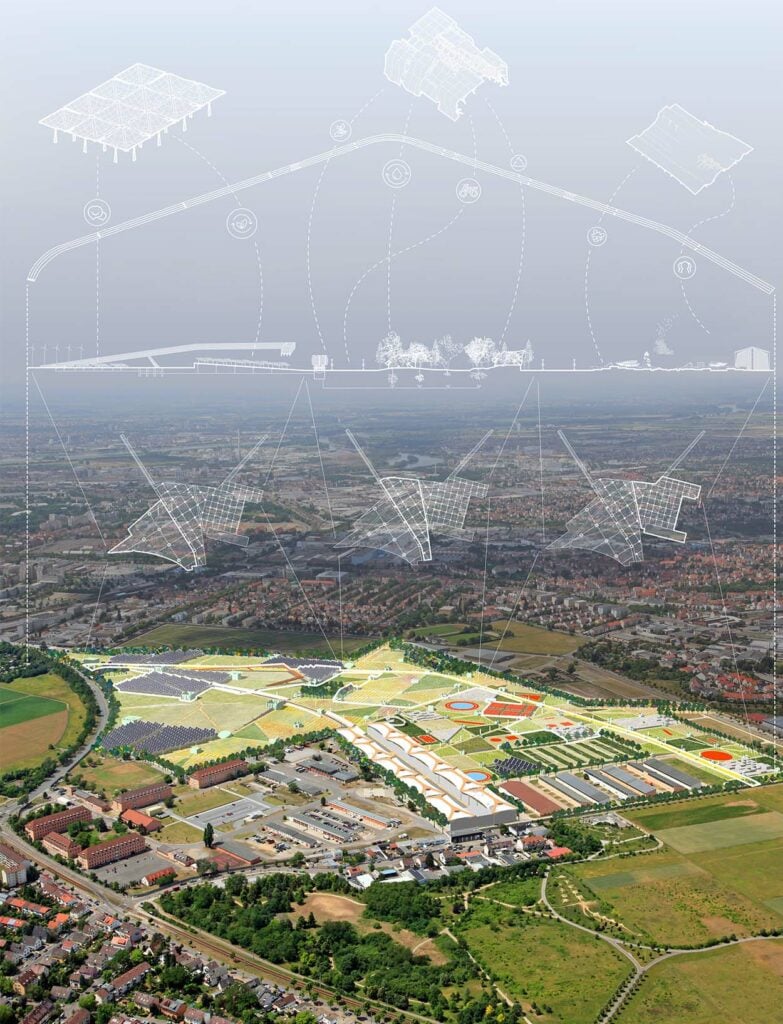 Zephyr Martin and Steve Almond Imagine the Future of Greenhouses
Another hybrid of sorts comes from Drexel University undergraduate Zephyr Martin, whose West Sprout unites an academic tower with a series of raised greenhouses containing hydroponic gardens, serving as teaching spaces while also providing fresh produce for an area of Philadelphia that is currently a food desert. The facility additionally serves as a center for community life, offering outdoor dining, a farmers market, a green roof, and outdoor classrooms. Also linking food production and education, University of Cincinnati architecture graduate student Steve Almond proposed the Rubber Bowl Aquaponic Campus, co-locating traditional farmers with students and aquaponics researchers on a site that merges timber-framed campus buildings with varied growing facilities. "By granting access to both types of groups, students who become future researchers and agriculturalists will have a greater understanding of a wider range of complementary practices rather than simply becoming specialists within one field," writes Almond.
Emily Ta Connects L.A. Neighborhoods with a Farm
Emily Ta, an undergraduate at California Polytechnic State University, Pomona, proposed Not a Sunflower Farm, which would transform a utility right-of-way corridor adjacent to the Los Angeles River into a cultural and recreational complex. On the underutilized site of ubiquitous transmission lines, the project situates itself along a "Utility Park Promenade," connecting diverse communities like Bell Gardens, Downey, Lynwood, and South Gate through an ambitious program that includes remediation agriculture, education spaces, composting workshops, hydroponic greenhouses, an edible garden, and even a vegetarian restaurant.
Source: Metropolis
---
For enquiries, product placements, sponsorships, and collaborations, connect with us at hello@takumaku.com. We'd love to hear from you!
---
Our humans need coffee too! Your support is highly appreciated, thank you!