With most brands overcoming supply chain problems, buying the best kitchen appliance package is easy and fun.
Well, almost fun.
Two years ago, you had no options. Now, you have tons—so many that it is confusing with different models, brands, and features.
In this article, you will learn the pros and cons of the best kitchen packages from some notable brands.
You will also learn how to maximize rebates and other incentives you are not supposed to know about.
Ultimately, you will have a step-by-step blueprint for a functional, attractive, and affordable kitchen.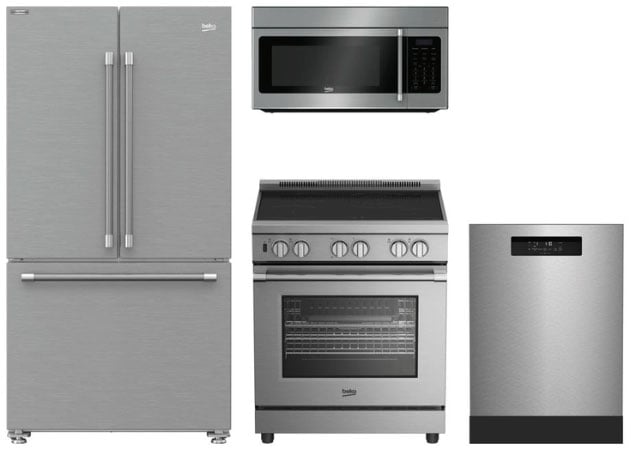 Beko has a nice combination of features for the price.
Beko Ranges
Beko's ranges have twin convection in the oven for consistent heat and uniform baking.
It's also a front control style, so your kitchen will look better without the backguard of a less expensive freestanding stove.
The induction range is fully featured at $2,499 with two high-output 3700-watt burners.
Beko Dishwashers
Beko dishwashers employ a "CornerIntense" wash arm. It washes in a square pattern for better water distribution around the corners, compared to traditional round wash arms.
The dishwasher has three racks with tops dedicated to silverware.
At 45 decibels, the dishwasher is quiet, just one decibel over the quietness standard of 44 dB.
Beko Refrigerators
The refrigerator employs several technologies to keep food fresh:
Twin Evaporators: Twin evaporators keep the warmer refrigerator and colder freezer air separate. The unit will keep a more even temperature with less defrosting, plus the odors from the refrigerator won't end up in your ice cream.
BlueLighting: You may think it's a gimmick, but sunlight is also blue on the spectrum, so blue lights will extend the freshness of fruits and vegetables. It was proven in our tests. Have a look by clicking here.
EverFresh Drawer: The crisper drawer has direct airflow from the compressor yet is gasketed, preventing air from escaping and preserving freshness.
Moreover, Beko showcases counter-depth refrigerators that almost seamlessly blend into your kitchen cabinetry.
These refrigerators are designed to fit snugly without protruding too far into your kitchen, allowing for a sleek and polished look in any kitchen setting.
Beko Over-the-Range Microwaves
I am not a fan of any over-the-range microwaves from any brand.
It's ironic because my apartment has an over-the-range microwave. The vent doesn't work well because over-the-range microwaves aren't good vents. They are underpowered and shallow.
Consider a range hood instead. Depending on the hood, it will add $500-$700 more per package. However, a range hood properly evacuates the smoke and grease from your home.
Overall, you have a good combination of features. The dishwasher is excellent, the refrigerator will keep your food fresh, and the stove looks good.
At just under $7,000, Beko offers exceptional value for money. And if you choose their electric or gas range, you can save over $2,000, making it an even better investment.
Cons
First, if you are flipping or selling a house, Beko does not have the same name recognition as the others.
The refrigerator is on the smaller side at 20 cubic feet (about twice the volume of a bathtub), compared to the 22-23 cubic foot average of counter-depth refrigerators.
You must be careful with service, as Beko does not have its own. I could say that about many brands.
In addition, the gas stove only has one power burner compared to two for most other brands.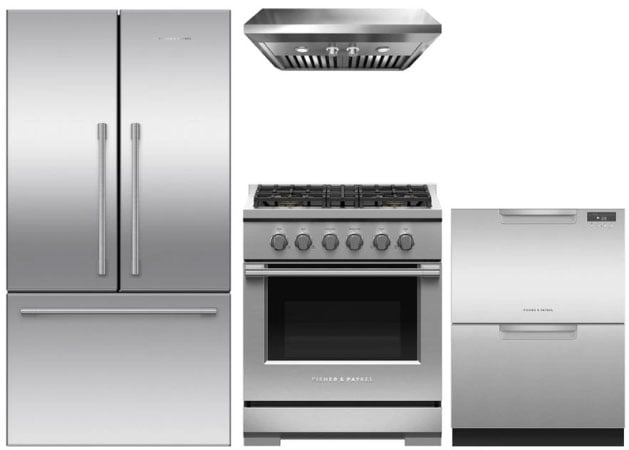 And now for the unique appliances you can buy.
Fisher & Paykel DishDrawers
You never have to bend down for the top drawer. Fisher & Paykel's DishDrawer is a decent dishwasher and has an eclectic look. The decibel rating is 45 dB. 
Fisher & Paykel Refrigerators
Fisher & Paykel uses "ActiveSmart" technology, a fancy word for sensors and a micro processing unit, to keep temperatures constant and your food fresh.
Fisher & Paykel was the most reliable counter-depth refrigerator sold at Yale last year. Then again, they didn't place an ice maker in the dispenser until recently. 
Fisher & Paykel Professional Ranges
Fisher & Paykel's range is extremely powerful, with a 22,500 BTU (British Thermal Units) burner and three 18,500 BTUs.
Fisher & Paykel Range Hoods
The PUCCM630SS canopy hood is powerful at 600 CFM. The depth is 24 inches, covering the front burners, so all the steam, grease, and smoke are completely exhausted from your kitchen. 
Cons
Double drawer dishwashers are not for everyone. Ensure you bring your favorite dishes to the appliance store and check if they fit before buying this dishwasher.
Like the Beko, the refrigerator is smaller at about 20 cubic feet. The oven interior on the range is 4.6 cubic feet, while the average stove's cubic footage is about 5.3 cubic feet. You have no Wi-Fi technology with Fisher & Paykel yet.
The level of service provided by many brands is often uncertain. It is crucial to be particularly confident in the reliability of premium brands.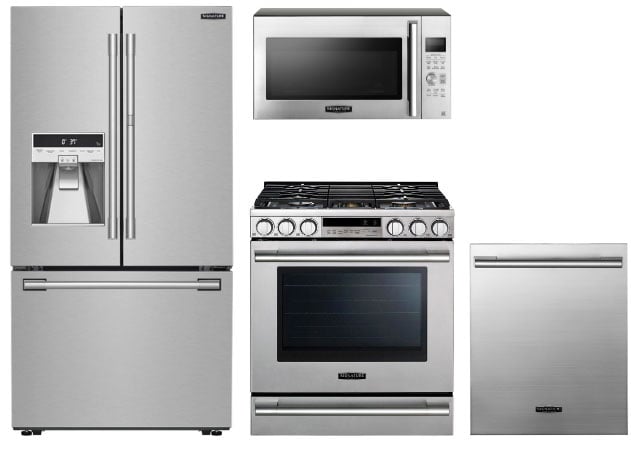 SKS is the high end line of LG. The finish is Titanium. It is a bit brighter than stainless steel.
SKS Refrigerators
You have many features with SKS, featuring two evaporators and eight sensors to maintain consistent temperatures. The back is stainless, so it absorbs moisture better than metal.
Door-In-Door with Coldsaver Panel: The refrigerator door has a second compartment to provide additional storage for items like juice, milk, and condiments.
Cool Guard: As you open the door, a rush of cool air cascades down, ensuring that the temperature remains constant while you retrieve your food.
Ice and Water: You have the convenience of water and ice on the door.
Craft Ice: This unit produces slow-dissolving ice spheres, ideal for cocktails.
SKS Dishwasher
This dishwasher is equipped with a steam feature that effortlessly eliminates stubborn baked-on residue, even if you happen to leave your lasagna pans in the sink overnight. I tested it at my neighbor's house. It works.
This dishwasher also has an effective 60-minute wash and dry cycle..
At 40 decibels, you won't hear it watching TV, even if you're in the same room while it's running.
SKS Ranges
This range has a good convection oven, and one of the largest at 6.3 cubic feet. Unlike most gas ranges, the heat is blown directly from an element in the back rather than just circulating the heat for more even temperatures.
If you often find yourself preparing meals ahead of time and eating them at different times, SKS's warming drawers are a game-changer.
With the ability to keep food fresh and warm for up to three hours, these drawers are a must-have for any kitchen.
SKS Over-the-Range Convection Microwaves
You can use this oven as a microwave, an oven, or a combination of both. It still can't vent, but it can help you cook.
Cons
The refrigerator is excellent, but you pay more for all those features.
The range only has one power burner at 18,500 and drops to 12,000 BTU for the next most powerful burner. The microwave still can't vent. 
Café Front Control Gas Range Kitchen Package – $ 10,549.92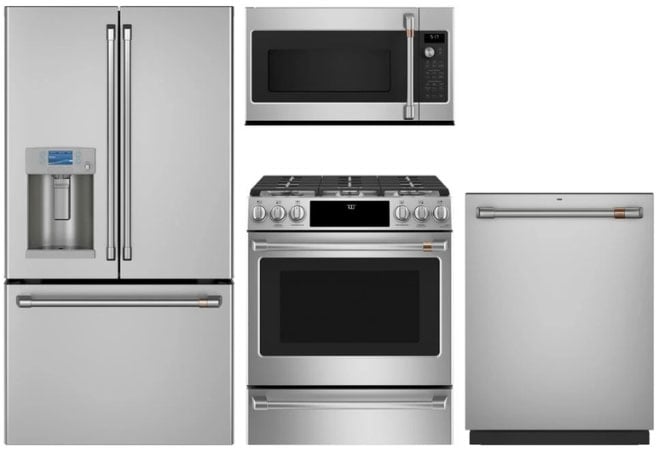 Tired of stainless steel? You can buy Café in black, white, and stainless with several different handle options.
Café Refrigerators
Café offers a unique and interesting ice maker that doubles as a Keurig coffeemaker.
With the convenience of Wi-Fi connectivity, you can even schedule your coffee to brew automatically when you wake up.
Café Ranges
Cafe's slide-in ranges feature six burners, an integrated griddle, a temperature probe, and a True European Convection system. These ranges ensure precision and even cooking results.
Furthermore, Café offers the flexibility of choosing between a standard slide-in range or their double oven ranges, which have a combined capacity of 7 cubic feet. Café 's double ovens have the ability to operate at varying temperatures.
Café Dishwasher
It's very similar to the GE Profile dishwasher, except that the decibel rating is higher at 45 dB, which is weird for a more expensive dishwasher.
Cons
Café is interesting for personalization, but it comes at a cost.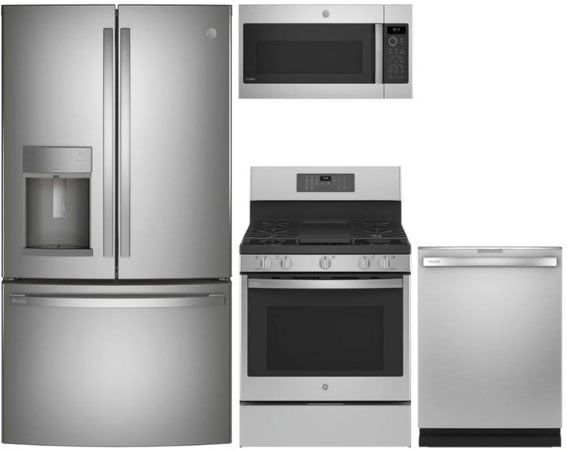 GE Profile has a good name with solid, decently featured appliances at a fair price.
GE Profile Dishwasher
This dishwasher is underrated. You have three levels of wash action, special sprays on the top rack, and special sprays under the silverware basket.
Their drying cycle features a fan to pull the heat out of the dishwasher to effectively dry plastics. At 42 dB, you won't hear it running. Unlike any other dishwasher this quiet, it has a grinder on the bottom, not a filter.
GE Profile Ranges
You have two extremely hot burners in the front at 20,000 and 18,000 BTUs (British Thermal Units), a griddle burner at 10,000, and one at 9,500 BTU and 5,000 BTU. The oven is like the others in convection.
GE Profile Refrigerators
Refrigerators have decent specifications of 22.5 cubic feet with two evaporators like the other decent brands.
GE Profile Over-the-Range Microwave
Most over-the-range microwaves have similar specifications. You either buy them as a microwave or a combination of a convection oven and a microwave.
Cons
The stove has a freestanding design, which means it doesn't slide in seamlessly. As a result, you will notice a backguard.
In a more upscale kitchen, the slide-in option offers a more visually appealing look.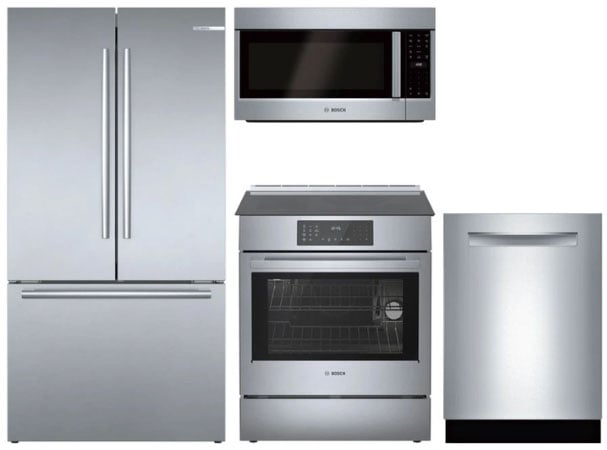 Bosch has a great name, industrial styling, and excellent reliability.
Bosch Dishwashers
The Bosch 800 Series is one of the best dishwashers you can buy with every cycle.
The quietness level is silent at 40 dB. You won't hear it even in the next room while you watch TV.
This dishwasher can dry even plastics by employing Zeolite crystals to increase heat and absorb moisture.
Bosch Ranges
Bosch's ranges have two power burners in gas and three in induction. The oven uses convection like others on this list.
With Bosch's warming drawer, you can prepare food and keep it warm for up to three hours. It's great if you prepare your meals and serve them later.
Bosch Refrigerators
Two Compressors: You have two compressors, not just evaporators, with a Bosch refrigerator. It's a similar system to a Sub-Zero.
Metal Back: Metal absorbs cold better to keep food colder.
Quiet: Bosch's refrigerator is quiet at 40 decibels, making it the quietest on the market.
Ethylene Filter: Spoiled foods emit ethylene gas. Bosch filters this gas, so food stays fresh for a longer period.
Bosch Over-the-Range Microwave
I still don't like them.
Cons
It's hard to say anything bad about a Bosch dishwasher other than the 800 series being pricey.
The stove's cubic footage is smaller than the average at 4.6 cubic feet compared to the average of 5.5 cubic feet. LG is 6.3 cubic feet, with Café being the largest at seven cubic feet in their double oven.
The refrigerator is also on the smaller side at 21 cubic feet. 
LG Front Control Gas Range Kitchen Package – $4,799.96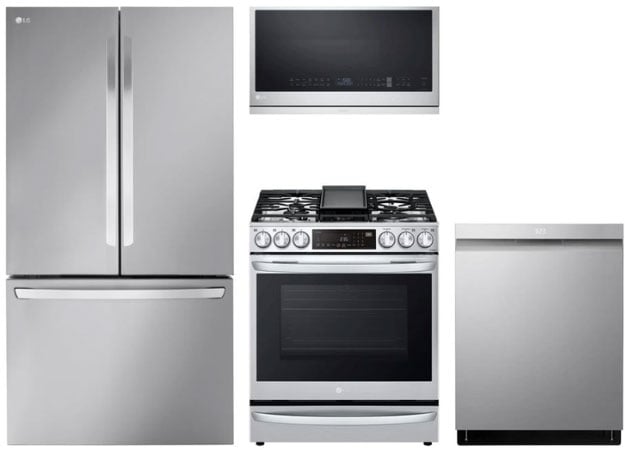 LG Refrigerators
The "Counter-Depth MAX" refrigerator is 26.5 cubic feet as a counter depth refrigerator. That's a full 3.5 cubic feet bigger than the standard.
LG Ranges
For induction, you have the single highest wattage available in a stove at 4200 watts or two power burners in gas with the largest oven on both at 6.3 cubic feet.
LG Dishwashers
LG, like SKS, has its lesser-featured steam dishwasher at a lower price. Its silence rating is still good at 44 dB. However, it doesn't have as many cycles or options.
LG Over-the-Range Microwaves
It's the same non-convection over-the-range microwave as the others.
Cons
The refrigerator is big but lacks the features of the regular LG line with twin evaporators, Craft Ice, and it uses thinner insulation.
The availability in the induction range is tough, so you will wait one to six months. 
Why Buy a Kitchen Appliance Package
There are two reasons:
Uniform Look: Each brand seems to pride itself on its unique handles. So technically, they have the same look. I don't think it's a big deal. Many brands are introducing "handle-less" appliances, so it will matter less in the future.
Pro Tip: Match the stove and dishwasher because they are usually together. It's less important for the refrigerator or using a pocket handle.
Rebates: Rebates matter. Rebates increase as you buy more appliances from the same manufacturer. The rebates are substantial as well. For example, Fisher & Paykel offers up to $2,750 for a package. GE Profile offers up to $2,000 and Beko offers up to $1,100.
When to Buy a Kitchen Package
Take advantage of the best deals by purchasing your kitchen appliances during popular holidays such as Black Friday, Labor Day, Tax-Free Weekend, Presidents' Day, Memorial Day, or July 4th.
During these times, rebates soar to new heights, ranging from 10% all the way up to 35%. 
Key Takeaways
There is no single best appliance package for everyone. Make a list of the features you desire and consider your budget when choosing the brand that best suits your needs.
It's always a good idea to verify if the appliance brand provides repair services in your area. This ensures that you have access to reliable support and assistance if any issues arise with your appliances.
Source: Yale Appliances
---
For enquiries, product placements, sponsorships, and collaborations, connect with us at hello@takumaku.com. We'd love to hear from you!
---
Our humans need coffee too! Your support is highly appreciated, thank you!