AN UNDERGROUND POOL? IN THE MIDDLE OF PARIS? THIS DESIGNER SAID 'YES'
Elliott Barnes designed the house to disappear.
For architect and designer Elliott Barnes, a minimalist approach to design can contain multitudes. Take, for instance, the Paris home he designed for veteran art collector and tech innovator Hélène Nguyen-Ban. "There was only one constraint," Barnes says. "She wanted to use one single material throughout the whole home." That material was the gray-hued, porous, hard-wearing Vals quartzite that's been used in some of the world's most luxurious buildings, including Peter Zumthor's thermal baths in Vals, Switzerland. It covers two of the three floors in Nguyen-Ban's 8,000-square-foot home.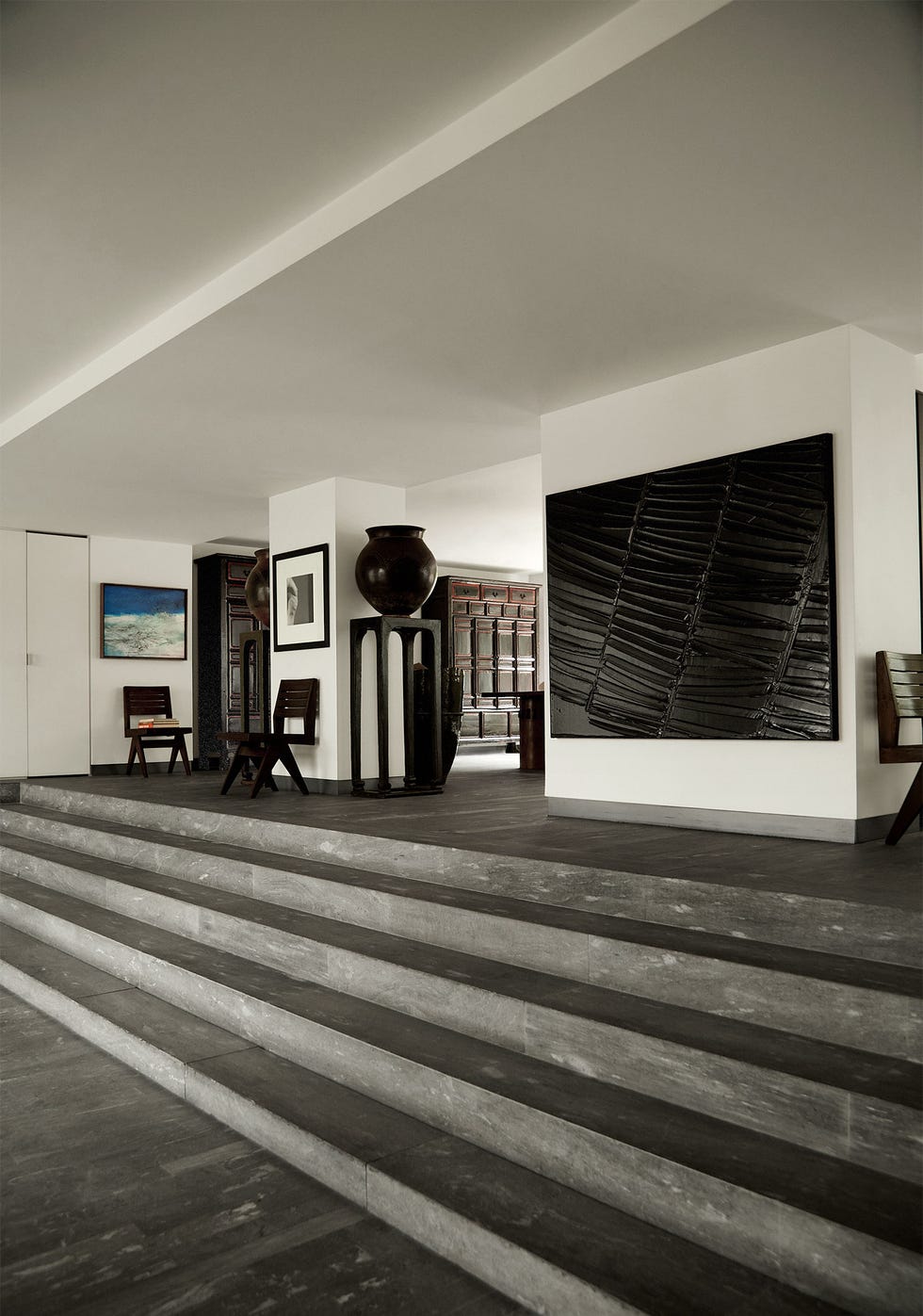 Here, the stone serves as the protagonist in a space designed to disappear. "My whole job was to provide Hélène the absence of presence," says Barnes, an ELLE DECOR A-List designer. "When a friend walks into a client's house, it's important to me that they feel it's a representation of that person. If they say, 'This is an Elliott Barnes space,' then I didn't get it right." Barnes's use of the stone served an overarching requirement: to afford the best environment for Nguyen-Ban's art collection, which includes contemporary pieces by Danh Vo, Thao Phan Nguyen, and Thu-Van Tran. "My art is part of my family," she says. "I wanted a space that would not only showcase my collection but enhance it. I needed a designer who would respect that."
SEE MORE OF THIS SHOWCASE FOR A HOMEOWNER'S ART COLLECTION
Nguyen-Ban and Barnes met nearly 20 years ago while he was under the tutelage of Andrée Putman. When Nguyen-Ban approached Barnes about this project in 2009, their rapport was already well established. "I was working at Louis Vuitton on the launch of Marc Jacobs's first ready-to-wear collection for the brand and needed a place close to my office in the 7th arrondissement," she says. "I was lucky to find such an industrial space in this classical, conservative area of Paris." The apartment had started life as horse stables in the 1870s, servicing a much larger bourgeois house adjacent to it. Eventually the stables became a printing house, and then in the 1990s a studio for the Spanish painter Miquel Barceló; Nguyen-Ban moved in in 2011.
"I wanted a space that would not only showcase my collection but enhance it." –Hélène Nguyen-Ban
Now the apartment doubles as an office for Nguyen-Ban's latest venture, the newly launched collecting app Docent, which combines algorithmic data with art-world expertise to make personalized recommendations. It's also a home for the pieces that first drew Nguyen-Ban into the fine-art world. Inherited antiquities from her parents hold pride of place in both public and private spaces, supplemented by the African and Asian ritual figures that Nguyen-Ban collects. The French collector spent her childhood in Ivory Coast, where her Alsatian mother met her Vietnamese father. From there, the family moved to Togo and then Cameroon. Now Nguyen-​Ban lives most of her life in London, where she keeps a Victorian townhouse with her husband and three daughters.
Her Paris home is a place to recharge and recalibrate; Barnes even managed to squeeze a subterranean swimming pool into the space. "The unique industrial qualities of the apartment have allowed me to incorporate architectural elements that are typically challenging to integrate in private, classical homes here," says Nguyen-Ban. "We created a very Zen room with Asian artifacts and antiquities, where I practice a shiatsu ritual every morning at sunrise. In London my days begin in a room with Andres Serrano's Last Supper, which is of course an entirely different experience."
"My job was to provide the absence of presence." —Elliott Barnes
Serrano's work also appears in this apartment, with his Red Popes I-III triptych gracing a rooftop gallery that is more glass than wall. Windows on this floor open completely—another request of Nguyen-Ban's, with art installation and movement at the forefront of her mind. A Richard Serra–esque spiral staircase descends into the main suite, with several other bedrooms nearby for family and friends. (Illustrious overnight guests have included the artist Henry Taylor and Serrano himself.)
A full circle in a spiritual sense, the home gives Nguyen-Ban a feeling of permanence in response to a childhood spent romantically, though a bit traumatically, in movement. The house's actual shape is closer to that of a cul-de-sac, offering transportive formal qualities for which Barnes and Nguyen-Ban had not initially planned. Standing at one end of the home, Nguyen-Ban can throw open a window and call across the courtyard to a friend or family member on the other side. In Barnes's eyes, "it makes for a very interesting living experience right in the center of Paris."
This story originally appeared in the Summer 2023 issue of ELLE DECOR.
---
For enquiries, product placements, sponsorships, and collaborations, connect with us at hello@takumaku.com. We'd love to hear from you!
---
Our humans need coffee too! Your support is highly appreciated, thank you!