Is less sometimes more? When it comes to paying rent, it seems so.
A new report from Zillow showed that the national median rent for a one-bedroom home in the U.S. is $1,695 — and while you might think that paying less equates to a less desirable place to live, there are still five surprising cities where you indeed can have it all. These cities, sprinkled across the country, are perfect for those who appreciate the balance between work and play, providing easy access to natural surroundings and plenty of entertainment.
With a median rent price of $1,550, Charlotte, North Carolina, is one of the country's fastest-growing places to live. Now with a population just shy of 1 million, the city has seen an increase in population, as people from larger cities like New York City come looking for a cheaper cost of living. It's led to some nice perks, too, like an explosion in the region's restaurant scene, which now offers up some of the most buzzed-about new openings in the nation.
Save even more money by heading to the West Coast, where Portland, Oregon's median monthly rent is a mere $1,495. The city is known for its progressive culture, food scene, and natural beauty, and with a population of around 650,000, Portland offers an urban lifestyle without the chaos of a larger city. Well-known for its public transportation and bike-friendly infrastructure, Portland gives residents even more ways to save, with plenty of alternatives to owning a car. Known for its numerous microbreweries, coffee shops, and food carts, Portland is a fast-growing city that keeps a small-town feel.
A mere $1,400 a month will get you an apartment in sunny Phoenix, Arizona, the perfect city for those looking to escape a colder climate. With more than 300 days of sunshine yearly, Phoenix also offers a thriving art scene and abundant outdoor activities, from hiking to paddle boarding, and is home to a growing tech industry, which makes it an attractive spot for those hoping to relocate for work.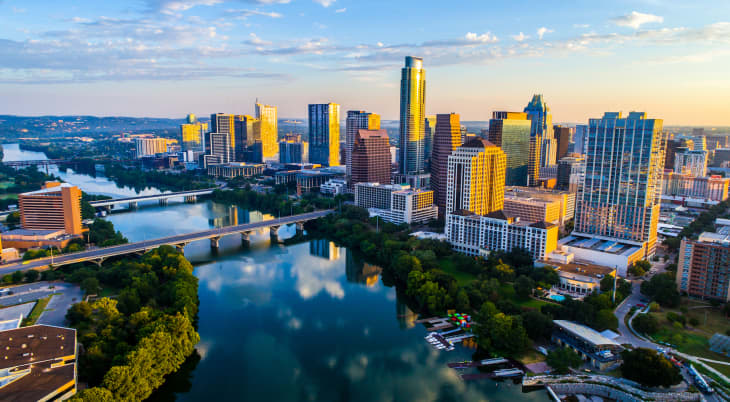 Despite becoming a hub for a booming tech industry and a hotspot for young professionals, Austin, Texas, is another popular destination for those seeking a lower cost of living, with a median rent of $1,460 for a one-bedroom apartment. Historically known for its rich music scene, the city also has a vibrant food scene, including authentic Tex-Mex and barbecue.
Finally, offering the most bang for your buck is the historical hotspot of Philadelphia, Pennsylvania, with a monthly median rent of $1,428. Philadelphia has a rich history and a burgeoning arts scene, which makes it an attractive destination for those looking for a mix of old-world charm and innovative culture. The city's many museums and historic sites draw tourists and locals alike, while the food scene offers iconic faves like Philly cheesesteaks and hoagies, and avant-garde chefs putting their spin on new cuisines.
Source: Apartment Therapy
---
For enquiries, product placements, sponsorships, and collaborations, connect with us at hello@takumaku.com. We'd love to hear from you!
---
Our humans need coffee too! Your support is highly appreciated, thank you!