IKEA turns 80 this year, yet it still doesn't look a day over its vibrant, modern youth. To celebrate the anniversary, IKEA is bringing back vintage furniture styles, and we're taking a walk down memory lane. 
If you've furnished or decorated an apartment in the past, well, 80 years, you've probably turned to IKEA. Perhaps you arrived at the labyrinth of a showroom bright-eyed and bushy-tailed on a Saturday morning, or maybe you made a desperate late-night trip, hoping to find affordable storage solutions under the fluorescent lights. Maybe you had a DIY assembly go awry, tested the limits of creativity with an IKEA hack, or found your future partner while buying an already put-together bookcase off Facebook Marketplace. Whatever the experience, IKEA stories are rarely boring and often extremely personal and relatable. 
In honor of its 80th birthday, we asked our readers for their favorite IKEA stories. From near-crushing defeat to a pack of rats (!) to heartwarming stories that will restore your faith in humanity, here's what 10 IKEA shoppers had to say.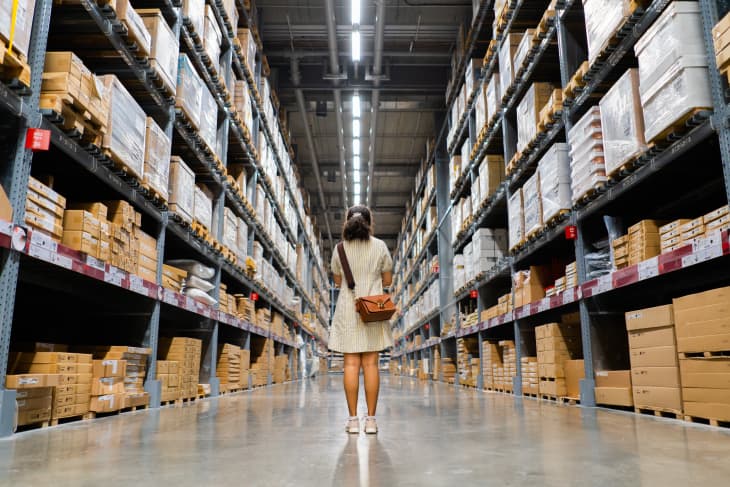 Flat Packed
"As a strong, independent woman I felt confident leaving my house that fateful day. I was heading to the revered DC-area landmark. No, not the National Mall — the IKEA in College Park. Upon arrival, I skipped the showrooms and beelined directly to aisle 6 and bin 11, where I spotted the IDANÄS wardrobe I came for. It was packed in a large, flat cardboard box, probably the width and length of a doorway. It was within easy reach, on a shelf just slightly higher than my 5'4″ frame.
I pulled the dolly up next to me and stepped forward toward my prize. I reached my arms up to slide the box forward about halfway off the shelf, at which point I'd planned to reposition myself, grasp it from a better vantage point, and gracefully place it on the dolly, likely inspiring the awe and respect of onlookers.

Except that's not what happened.
Instead, I slid the box just a bit too far forward on the shelf. Its weight shifted and suddenly I was supporting nearly its entire weight above my head with my outstretched arms. What happened next was slow motion: It was too late to slide the box back. I had to either scream for help or go down with the ship. Unfortunately, and with my last fleeting shred of independence, I chose the latter. I fully supported its weight above my head, sinking into a squat and my face turning beet red with embarrassment. There was a moment when I thought I might actually be able to pull this off.
Instead, I slowly melted to the ground like a snowman in the sun. I was smushed flat on my back in the middle of IKEA, a large, flat box on top of my entire body. It happened so slowly that I believe everyone around me, even myself, didn't really believe what they were seeing happen. There was no rush to my aid. It was more like that scene in Bridesmaids — you know the one: 'It's happening … it happened.'" —Bridget
Rats in IKEA
"Every time I think of IKEA, there's a specific trip that always comes to mind. My wife and I went there to pick up some new furniture. While wandering through the store, we stumbled upon these peculiar stuffed animal rats that were being sold in a giant bin. They were oddly cute, and we thought, why not have a little fun?
Armed with a handful of these furry critters, we toured around the store, tucking them in various unexpected places throughout the showroom. We placed a rat peeking out of a kitchen cabinet, another snuggled under the bed covers, and one even perched on the edge of a display toilet. We were laughing so hard, trying to be subtle while other shoppers were milling about.
About a month later, we revisited the store. As we strolled through the showroom, we began to notice more of these stuffed rats in random places. One was poking out from a drawer in a MALM dresser, another was tucked into a BILLY bookcase, and yet another was napping on a POÄNG chair. Our eyes met, and we burst out laughing. It seemed our harmless prank had inspired others." —Jeremy
Design Education
"The 1997 IKEA catalog was [a] huge [design] influence. That catalog came to my house back in the mid-'90s and I'd never seen anything like it in my life. This was pre-internet era and I was a kid in the U.K. countryside, so my access to contemporary design was basically zero. It was like flicking through the pages of some alien world. I still have that catalog and managed to source many of the pieces that I really wanted back then for my home now." —Michael, describing his neon flat, featured in an AT House Tour.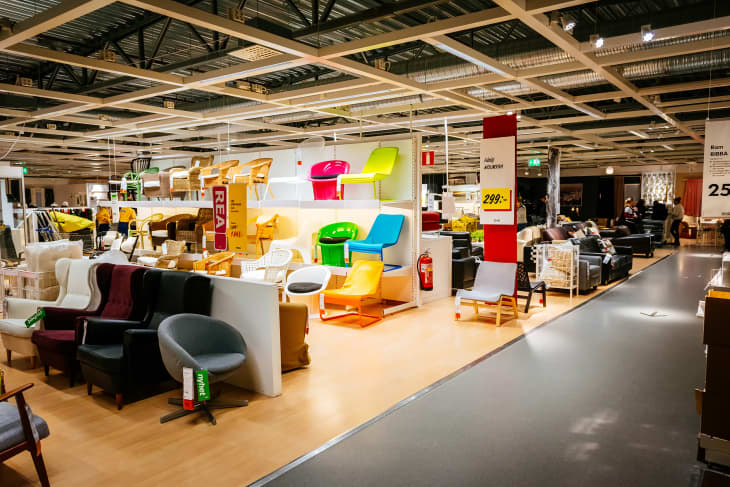 Hide and Seek
"Have you ever played hide and seek inside an IKEA before? Be prepared for the most challenging game of your life. My niece thought it was a great idea, but I just didn't realize how huge IKEA actually is. It took over an hour to find one of my nieces. It was stressful, fun, and, let me tell you, I now know where everything is in IKEA." —Jarir
Love in a Swedish Place
"I met Briony at the check-out counter of IKEA in Tokyo last August. I spotted her effortless style from a distance and she had that 'lust for life' twinkle in her eye. We instantly clicked and soon realized we had so much more in common than the obvious 'Lost in Translation' theme of Tokyo — we shared a passion for design, cooking, and a fascination with this magical land that we now call home." —James, who was featured in an AT House Tour and met his partner in an IKEA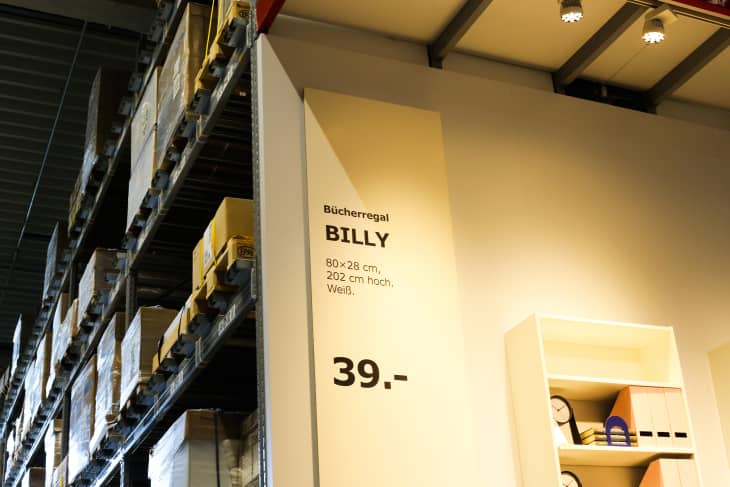 Cat-Driven Chain Reaction
"When I got my first apartment, I wanted to create a nice, well-furnished home office, but I didn't have the budget for much. I got a MICKE desk and half a dozen BILLY bookcases and spent a whole weekend getting them all set up.
As I put together the bookcases, I found that the backing was getting in the way of cords and light switches, so I skipped it. By Sunday evening, I had my whole office set up beautifully. The shelves were loaded, my desk was set up, and I couldn't wait to work in my beautiful new space.
In the middle of that night, I heard a loud crashing sound coming from my new office, and I got to the door just in time to see my cat sprinting down the hall away from the room. I don't know exactly how it started, but one of my bookcases — which was never going to be stable without the backing — tipped over and started a chain reaction. Every single bookcase in the room fell over. They were a total loss. This didn't stop me from replacing those bookcases with the same model when I had the money saved up. This time, I remembered the backing." —Ben
Childhood Memories
"Some of my earliest childhood memories are of visiting the IKEA in my hometown of Woodbridge, Virginia. It's no wonder the hour-and-a-half-long drive from my current home in Richmond to the Woodbridge IKEA is a nostalgic road trip I look forward to.
I was 3 or 4 years old and I remember holding my mom's hand as we walked through the showroom aisles together. My parents allowed me to select the simple white bedroom furniture and pink bedding, which would become the backdrop of many childhood memories. There's something so soothing about going back. Even if I don't need to buy anything, I feel comforted being there." —Kristen
Buddy System
"The first time I visited an IKEA, I was out of town visiting my in-laws. I figured it would make a nice trip, as I'd heard touring the showroom could be a cool experience. Plus, they sell food, so we could do lunch as well. However, I quickly became separated from the family and ended up lost for about an hour — by the end of it I was wondering if I was in the Twilight Zone or something. I just could not find an exit. Apparently the entire time, my family was also wandering the showroom looking for me! Every time since then that I've been to an IKEA, we use the buddy system." —Dan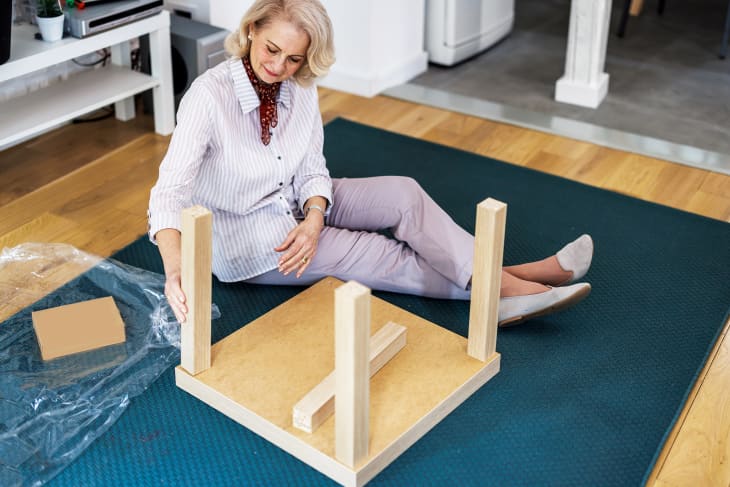 Good Pair of Legs
Shortly after I got divorced and relocated to New York City, I found myself in my local IKEA store with a close friend and my brother, who were there to help me pick out a new (smaller) dining room table. I was frustrated and the store was closing soon. Every table I picked was out of stock and my kids were waiting at home with a babysitter.
I suddenly burst into tears in the middle of the showroom. "What kind of mother doesn't have a table for their kids?" I was nearly inconsolable until my friend spotted something that might work. I wiped my tears and resolved to make it work. Lo and behold, the legs for the table were in stock but the tabletop was out of stock. We trudged to the stock area and found the legs. I felt so ridiculous. "What am I going to do with these?" I blurted out. "Well, at least you know you have good legs!" My brother tried to comfort me.
I paid for the table legs and as we left the store and entered the parking lot, a woman approached me. "I'm sorry but I couldn't help but overhear you in the store," she said. "I'm here getting some furniture for my first apartment after transitioning out of temporary housing. I'm a mom, too. I know how you feel." She was holding a small coffee table, as she explained it was all she could afford. "It's not the size of the table," she said. It's the people around it that matter." I was stopped in my tracks and felt horrible for making a fuss. I didn't know what to say. "Thank you," I said slightly embarrassed. "And congratulations on your new home." She smiled and started to go on her way until she called out, "You're a great mom. Your kids are lucky. And he's right, you do have good legs!" We all burst out laughing. To this day I still have those legs and eventually, found the perfect top to go with them." —Maria
Pop the Champagne
"A few years back, we relocated to our new family apartment and placed an order for dining chairs just before New Year's Eve. Our town didn't have an IKEA store, so we eagerly awaited the courier's arrival. As fate would have it, due to heavy traffic and an unexpected blizzard, the courier arrived just before midnight. So we ended up celebrating the New Year with the courier. It's been several years since that incident, yet we still remember that amusing New Year's Eve with a very special delivery!"  —Natasha
Source: Apartment Therapy
---
For enquiries, product placements, sponsorships, and collaborations, connect with us at hello@takumaku.com. We'd love to hear from you!
---
Our humans need coffee too! Your support is highly appreciated, thank you!