A huge building made entirely from cardboard boxes has popped up in Newcastle city centre.
The structure, which towers above trees and street lights and is 45ft (14m) tall, has been built outside the Civic Centre.
It is an art installation and is part of the Novum Summer Festival, which is making its debut in the city.
Hundreds of volunteers, including children, have helped to make more than 1,500 parts over several days.
Designed by French visual artist Olivier Grossetête, the towering building was erected without any machinery on Friday.
However, it will not last long as it is designed to be toppled by hand on Sunday, when the festival ends.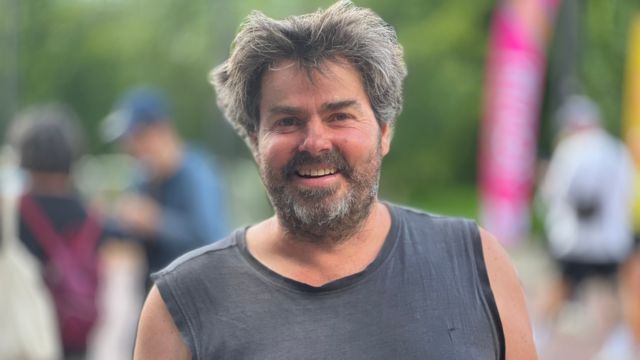 "When the people are together, it's possible to make beautiful things," said Mr Grossetête.
"The finality is not this [the structure], but what is happening around this. It is beautiful to see it [being torn down) too."
The life-size structure has been designed to mimic a four-storey hall, although Mr Grossetête is known for basing other cardboard structures on real-life buildings.
In recent years he has recreated landmarks including Donnington Castle, while he has been commissioned to recreate a currently unknown Ipswich venue later this year.
Volunteers spent a number of hours piecing the boxes together with brown tape in relatively dry weather, earlier.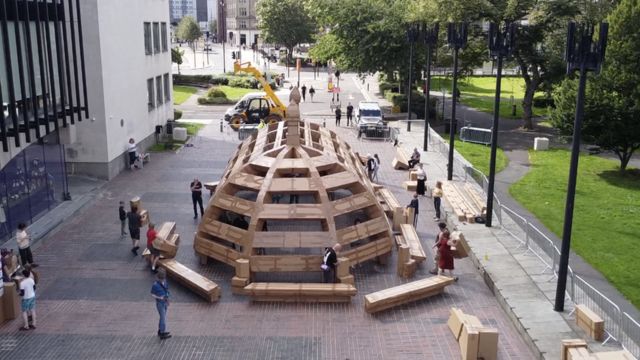 Jim Mawdsley, principal advisor, culture and events at Newcastle City Council, said he hoped the creation would kick-start the arrival of similar pieces of art at future festivals.
"As we move forwards, we're going to make it bigger, have different art forms doing big, impressive pieces of dance and music.
"We just want it to become synonymous with Newcastle… this is just the beginning, Novum means new and this is just the beginning".
Once the structure is destroyed, it is expected the boxes will be recycled.
Source: BBC
---
For enquiries, product placements, sponsorships, and collaborations, connect with us at hello@takumaku.com. We'd love to hear from you!
---
Our humans need coffee too! Your support is highly appreciated, thank you!